---
Some of the items I find myself making over and over again with embroidery designs are pillows. Whether I use a primitive sampler or even a seasonal applique, I love to find ways to decorate throughout my home with pillows! Pillows also make great gifts to give!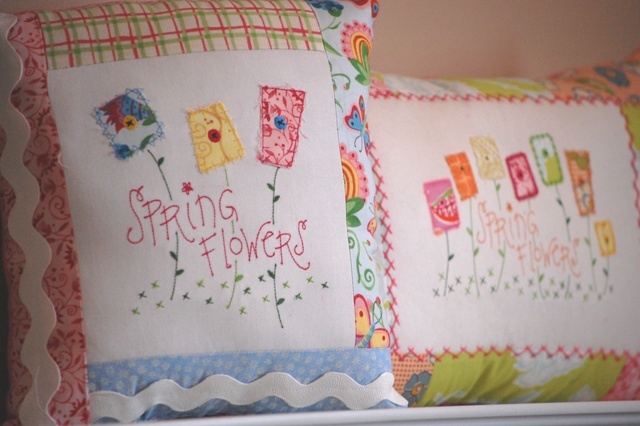 1. Stitch design onto your background fabric.
2. Trim fabric so that you have an approximate 1 or 1 1/2" border around each side of the design.
3. Cut 4 different strips of fabric, each measuring 2 1/2" wide X _____. (This second number changes all the time depending on the finished size of your background fabric.) What I usually do is cut a long 2 1/2" size strip and then I trim the ends after sewing each strip onto each side.
4. With right sides together, place your first strip on the top of your background. Use a 1/4" seam allowance to sew a straight line. Trim any excess fabric off at the end. Press open with a hot iron.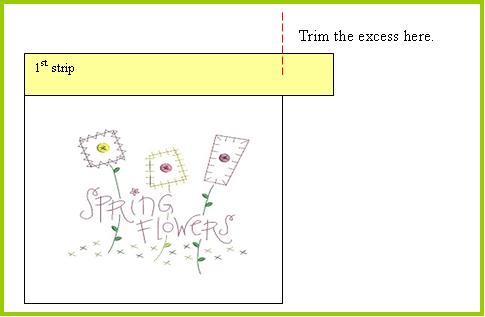 5. Now take the 2nd strip and sew to the right-hand side of the pillow front. Again, make sure right-sides are facing and you are using a ¼" seam allowance. Press open.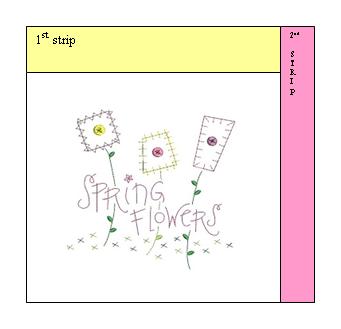 6. Now it's time to sew on the 3rd strip to the bottom of the panel.. (Same as above instructions)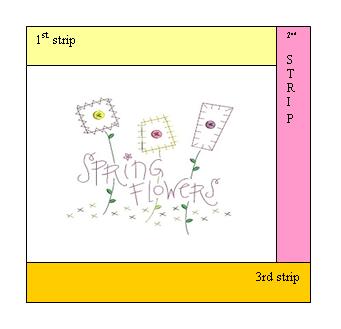 7. And finally, sew on the last strip! This will go on the left-hand side of the panel.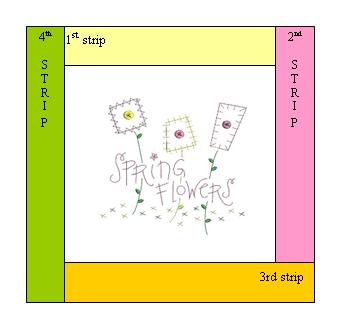 8. Now that your front panel of the pillow is finished, use this as the template to cut out your pillow back. Place this panel on top of the material you will be using for the back of the pillow. Pin. Cut out.
9. Place right sides together and sew around the entire pillow, leaving about a 2" opening at the bottom of the pillow.

10. Turn inside-out and now add the stuffing. Be sure to poke all the way through the corners. I sometimes find a dull pencil or chopstick to be very helpful in this. Stuff away!

11. Hand-stitch the bottom of pillow closed.

And my #1 tip for getting a nice, evenly stuffed pillow? Once your stuffing has been pushed all the way to the corners, edges and center, and you have closed the bottom, take a hot iron and steampress over top. It may sound simple, and it is...but this is definitely the key to having a nice, firm, and lumpy-free pillow!

=================================================================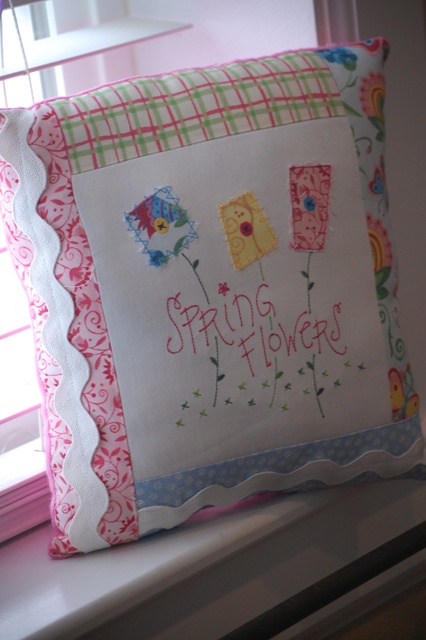 The design I used for this demonstration is the "Spring Flowers 2 Applique Sampler" from Needle in a Haystack!


I'd love to see the pillows you make with embroidery designs! Submit to the "I Made This" section at SWAK so we can all be inspired!